The 2019 Porsche Macan - Now Accepting Orders for Delivery
The 2019 Macan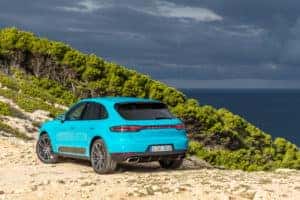 The Porsche Macan is back and better than it's predecessor.
Prominent among the changes, the 2019 Macan features a new three-dimensional LED light panel at the rear, standard LED headlights, and a revamped interior design. Porsche Dynamic Light System Plus (PDLS Plus) is still available as an option, offering improved lighting while cornering. The taillights, which were separate on prior Macan models, now connect in similar fashion to other Porsche models, first seen on the 911 and now the Cayenne and Panamera. In addition to the revised exterior design, customers can now select a variety of new paint color options: Mamba Green Metallic, Dolomite Silver Metallic, Miami Blue, and Chalk.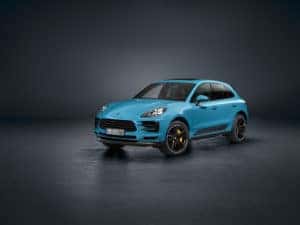 Stuttgart.
With the model having received a full makeover, the most prominent new features in terms of design, comfort, connectivity and driving dynamics include the three-dimensional LED light panel at the rear and the new fully interconnected Porsche communication management system with 10.9-inch touchscreen inside the vehicle. The vehicle dynamics of the Macan remain its core feature. The overhauled chassis increases comfort and makes the Macan even more enjoyable to drive. As is typical for a sports car, it comes with mixed-size tyres, enabling the driver to take full ad-vantage of the benefits of the intelligent all-wheel drive Porsche Traction Management (PTM) system and adopt a dynamic driving style. Newly developed tyres with improved performance characteristics allow for even better lateral dynamics. The wheel diameters range from 18 inches as standard to an optional 21 inches.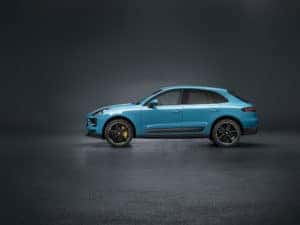 Fully interconnected: Porsche Connect Plus and online navigation as standard
The Macan offers a range of digital possibilities through the use of the new Porsche Communication Management (PCM) system. The full-HD touchscreen is now 10.9 inches in width (previously 7.2 inches). As in the Panamera and Cayenne, the user interface can be adapted to suit personal requirements via predefined tiles. Fully inter-connected as standard, the new system features online navigation, mobile phone prep-aration, two audio interfaces and intelligent voice control. Other features provided on board as standard include Porsche Connect Plus (with LTE phone module and SIM card reader), a WLAN hotspot and an array of Porsche Connect services. The ability to connect to Here Cloud, which is used for navigational purposes, is essential. The cloud provides the driver with up-to-date online data at all times, thereby allowing the route to be calculated rapidly. The Porsche Connect app and Porsche Car Connect app enable the driver to communicate with the Macan via their smartphone. The Of-froad Precision app can be used to make the off-road experience in the Macan even more visceral and record it.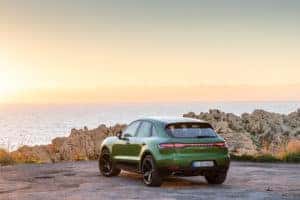 See the video below for an official preview: